Ready4K

Through a special partnership between the Tennessee Department of Education and the Governor's Early Literacy Foundation (GELF), Memphis-Shelby County Schools is excited to offer free access to Ready4K to families of students in grades Pre-K-4. Thousands of parents are actively enrolled via cell phone, and in a 2022 family engagement survey, they say Ready4K texts are helping their children grow their literacy skills.
Ready4K is a research-based text-messaging program, that helps parents bridge the gap between the classroom and home and ensure that students learn no matter where they are.
Family Engagement Survey Results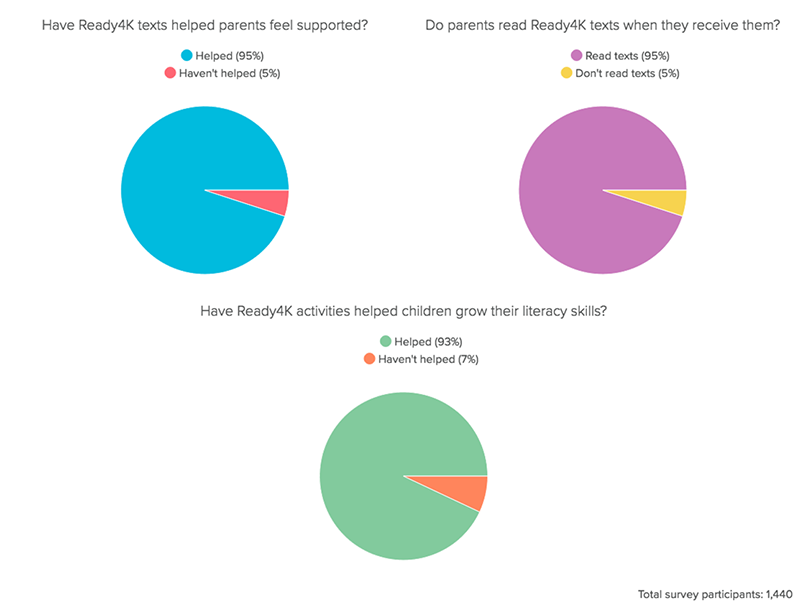 Family Feedback:
"The Tips are like an extension of my son's therapies that we can practice at home. Often times we struggle with coming up with fun and exciting ways to teach our children. The tips are extremely engaging and very beneficial. Thanks a bunch!"
FACTS ABOUT READY4K
You don't have to sign up for Ready4K texts. Just don't opt out!
Get three Ready4K texts per week with fun facts and engaging literacy tips to help your child continue to learn while at home.
The messages match each child's age, even if you have more than one child.
Ready4K tips are easy because they build on daily home routines, like getting dressed, bath time, or preparing a meal.
Parents can expect 3 texts per week (Monday=Facts, Wednesdays=Tip, and Fridays=Growth).

Monday/Facts- designed to inform and motivate
Wednesday/Tips- focuses on activities leveraging family routines
Friday/Growth- designed to reinforce, encourage and extend

More than 4 million Ready4k text messages have been sent to MSCS families since we launched in Spring 2021.
More than 30,000 MSCS families (Pre-K – 4th grade) remain actively enrolled in Ready4k.